As mentioned in my opening post, I intend to use this blog as an archive where I'm going to collect my art-related writings. I'll start the process with the following text, that was written after the 2019 Inversia Festival in Murmansk, Russia. It was originally published in the blog of Northern Media Culture Association Magneetti ry:
In the following writing I will try to present shortly a few artists whose performance particularly struck my attention during the wonderful Inversia Festival at Murmansk this year. This is by no means a top list or anything like that. For example, the airy songwriter/electronic hybrid tunes of Synecdoche Montauk (from Thursday) or the intense electronic set of SØS Gunver Ryberg (from Saturday) would definitely deserve a writing of their own. However, I would like to concentrate here on the musical program that was heard on Friday the 8th at The Club Manila and pick up a few artists who performed there. I think this night was in many ways a perfect example of clever programming, where most of the artists somehow represented different variations of a common theme. Through this, the whole night somehow became more or less one enormous setlist, where similar elements were reiterated with different kind of approaches. Perhaps some of the key concepts in opening the night could be minimal foregrounds and the vast contents lurking just behind them. Other common themes probably were slowly expanding aural images, the ever-evolving and dissolving structures from silence.
The second performer of the night was Russian Alexander Medvedev. Quoting the program he performed "an algorithmic installation" and thus was in charge both the audio and the visuals of the set. What we heard and saw could be described as majestic: massive electronic ambiences intersecting, sometimes even crashing, and eventually vanishing behind each other. The music represented certainly a movement of enormous masses, but not without sensibility. No matter how grand, one could always sense the presence of the author and his affections in the material. That is: this was minimalistic music of large surfaces, but not without feelings and personal touch. The visuals accompanied the music with similar language: large bursts of strong colours, full of contrast varied from the planetary nebulas to abstract shapes and thereby formed a consistent counterpart for the musical flow throughout the whole performance.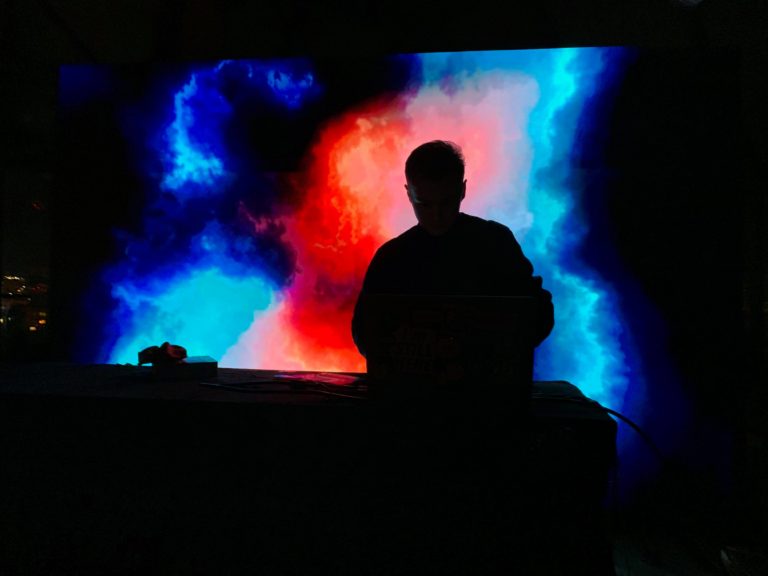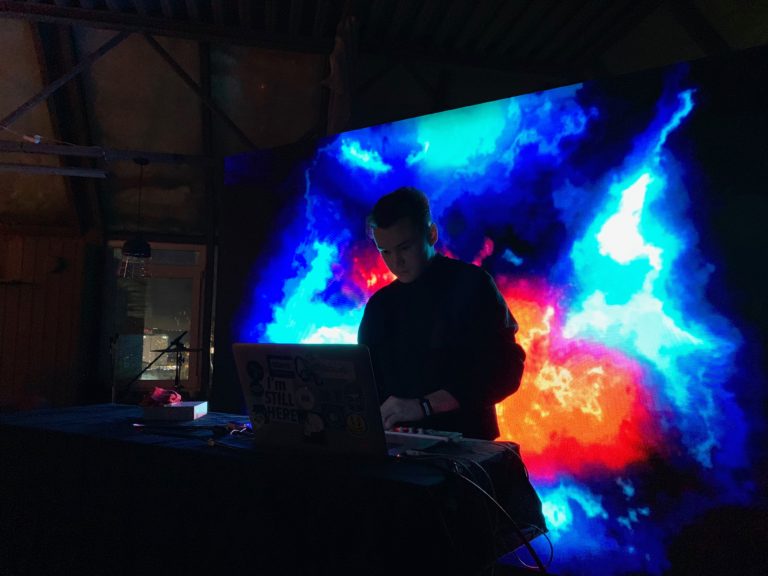 The Swedish artist Lisa Stenberg had a challenging slot later on in the evening playing right after the energetic performance of Sturle Dagsland, but I think she pulled it off magnificently well. I guess her music could be described in a similar fashion than Medvedev's. With a quick listen one could say that it does not contain much rhythm nor melodies – but leaving it there would be an immense injustice. Because what I sensed in her music was above all huge, huge amount of emotion and beauty. I suppose I could even say without any exaggeration that I simply loved it. She gave solid performance where different kind of electronic structures and drones slowly faded in, evolved, blended with each other and then gently disappeared to where they came from. The textures, timbres and colours were well thought and created a coherent whole. The pulsating waves, the swashes of sounds and the reflections of echoes were yet topped with delicate melancholic minor key harmonies, which gave the music a wistful and touching tone. This set was the personal highlight of whole festival for me and I highly recommend anyone checking out her music!
The night was wrapped up with Norwegian Alexander Rishaug performing under the alias Rudow. He performed a tight set of first-rate minimal techno with a strong dub vibe in the style of Basic Channel and Rhythm & Sound. Once again, equally important to the actual sounds was the vast space between them. During the set you could almost feel the void take you somewhere distant and beyond – maybe somewhere between galactic radio noise and remote reverberations of the big bang? Spare rhythmical elements and robust bass created a sturdy bottom, on top of which huge elements could collide and then calmly dissolve. Clicks, cracks and short instrumental stabs all soaked gigantic reverb and delay were an essential part of soundscape, partially sparse yet so completely full. It is exactly this paradox that so aptly underlined the theme of the whole night: the richness of the texture – and the texture alone.
In addition to all the wonderful artists who performed at the festival I would like to thank Mr. Oleg Khadartsev for putting up such a carefully planned and thought provoking musical program. For me the Friday night at Manila was a delightful experience where different musical acts created almost seamlessly something new, that simply became more than just a sum of its parts.