VESITORNISINFONIA
CHECK THE FILM TRAILER ABOVE.
Year of Production: 2023
Runtime: 19min53s
Shooting Format: 16mm Film (Kodak Vision3 50D), Super-8 Film (Kodak Vision3 50D, 200T, 500T) & Digital Video
Master Format: Quicktime File (4K), DCP
This film is produced by Flatlight Creative House
Check the film website HERE.
…and the films Instagram HERE.
Production of this film has been supported by AVEK – The Promotion Centre for Audiovisual Culture, Taike – The Arts Promotion Centre Finland, The Arts Council of Lapland and Jussi Eiramo Foundation.
This film is distributed by AV-arkki, the Centre for Finnish Media Art:
https://www.av-arkki.fi/works/vesitornisinfonia
Crew:
Written & Directed by Panu Johansson
Producers: Maria Gullsten & Panu Johansson
Director of Photography: Toni Kauppila, Ilmari Mannermaa & Panu Johansson
Editing: Panu Johansson
Sound Design: Heikki Illikainen & Panu Johansson
Colorist: Jussi Rovanperä
Production Coordinator: Ida Tirkkonen
1st Assistant Camera: Niko Juntunen
VFX: Toni Kauppila
16mm & Super8 Film Scan: Mutascan Helsinki
Graphics: Toni Rantanen
Translator: Peter Culley
Voice Actors: Henry Kestilä, Julia Lakkala, Pieta Koskenniemi, Jussi-Pekka Koivisto, Miina Alajärvi
SYNOPSIS:
Water Tower Symphony is a tribute to Finnish water towers and the memories associated with them in the form of an experimental film. As the title suggests, the piece gives the spotlight to Finnish water towers, the real eye-catchers of the local constructed environment. According to recent studies these towers have become town symbols that create local identity. Water Tower Symphony not only documents, but also revives this kind of everyday environment typical to Finland. These slowly disappearing surreal buildings deserve to be depicted through art: they deserve a visual symphony of their own.
WRITINGS:
Vesitornisinfonia on yhdistelmä salaperäistä ja tuiki tavallista. Elokuva on omistettu vesitorneille, suomalaisten taajamien maamerkeille, joiden futuristinen arkkitehtuuri on samalla kertaa jylhää mutta tuttua. Vesitorneihin liittyy valtava määrä modernia kansanperinnettä – ne ovat vetäneet puoleensa, estäneet eksymästä ja olleet ehkä paikallisten raggarien väijytyspaikka, ainakin huhujen mukaan… Panu Johanssonin audiovisuaalinen sinfonia saa betonin soimaan.
Tytti Rantanen, DocPoint – Helsinki Documentary Film Festival (Internet Archive)
SCREENINGS & EXHIBITIONS:
2023 Video Art Festival Turku, Finland (coming up)
2023 Antimatter [media art] Festival, Victoria, Canada (coming up)
2023 Gallery Pimento, Oulu, Finland (solo exhibition)
2023 Nordisk Panorama Film Festival, Malmö, Sweden
2023 Tranås at the Fringe International Art Festival, Sweden
2023 Kinos Film Festival, Lahti, Finland
2023 DocPoint – Helsinki Documentary Film Festival, Finland
2022 Studio Mustanapa, Rovaniemi, Finland (solo exhibition, 11 minute preview version)
2022 Outoja tiloja /Strange Spaces -event, Rovaniemi, Finland (5-channel installation version)
STILL IMAGES:
Images below are meant for web preview only. Full quality press images can be downloaded here.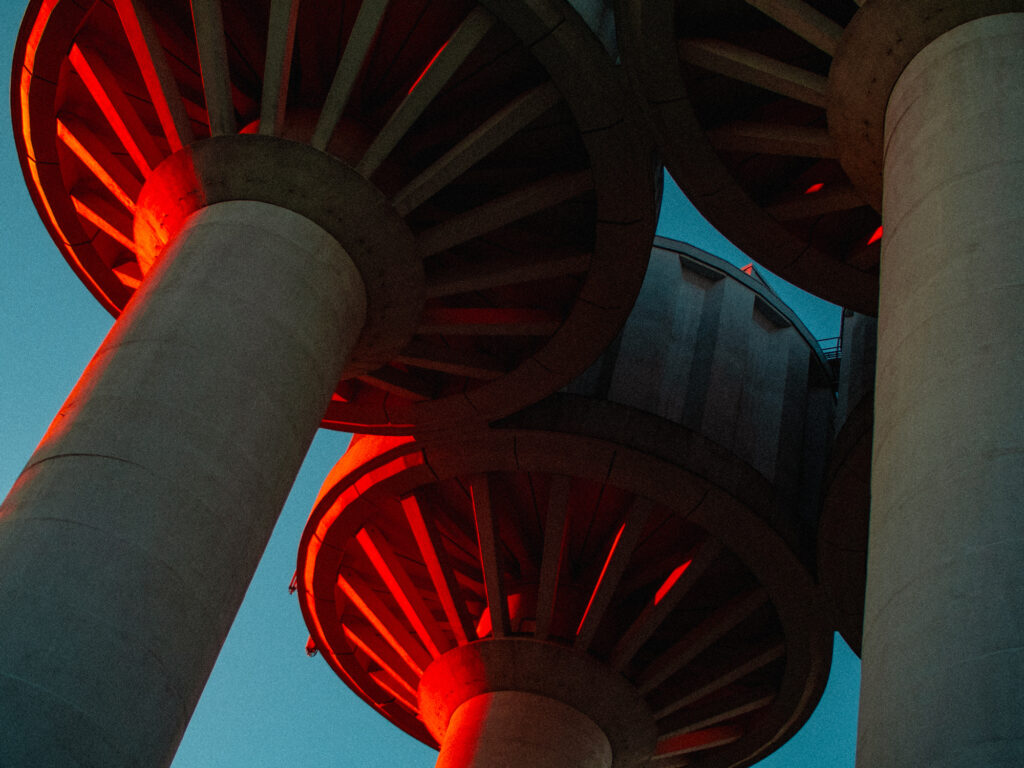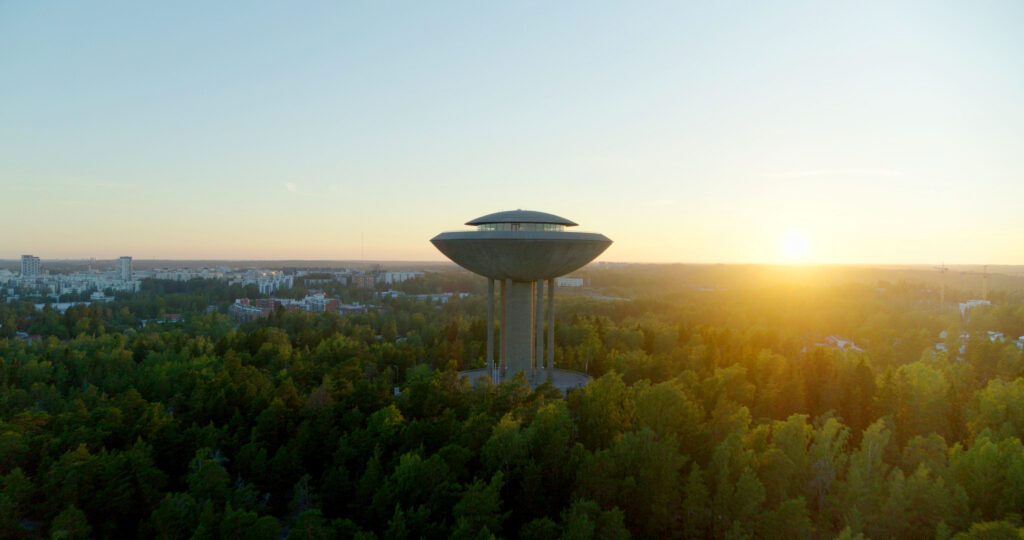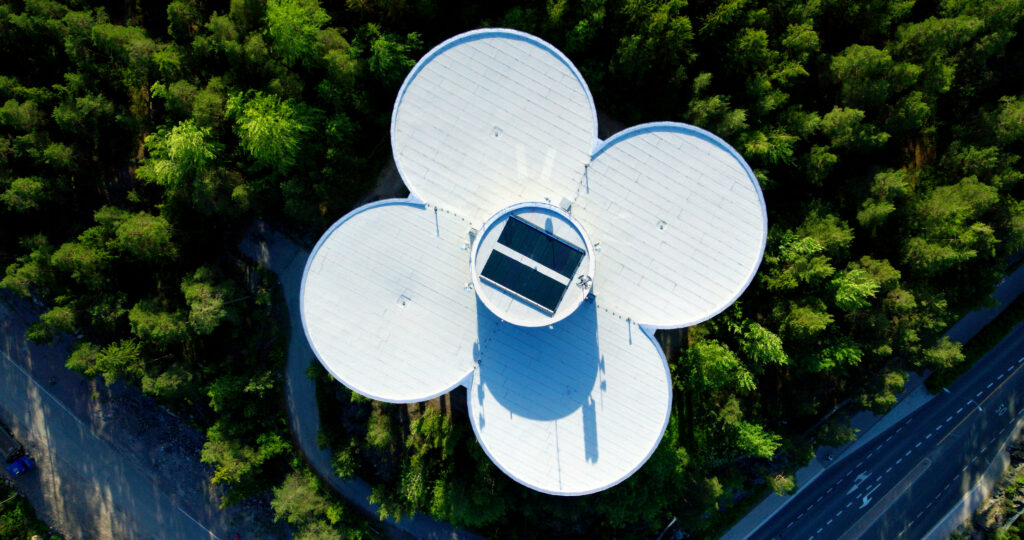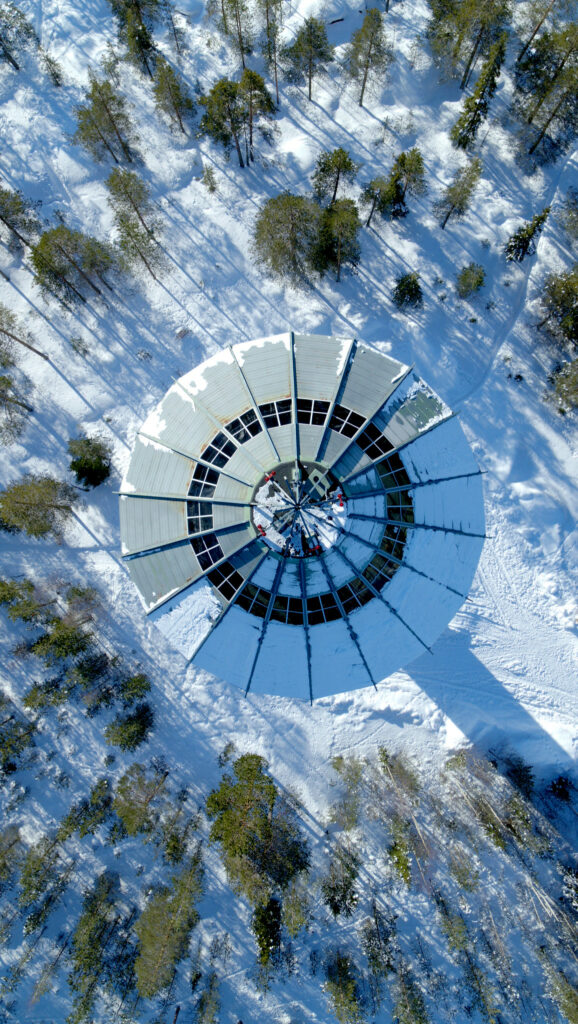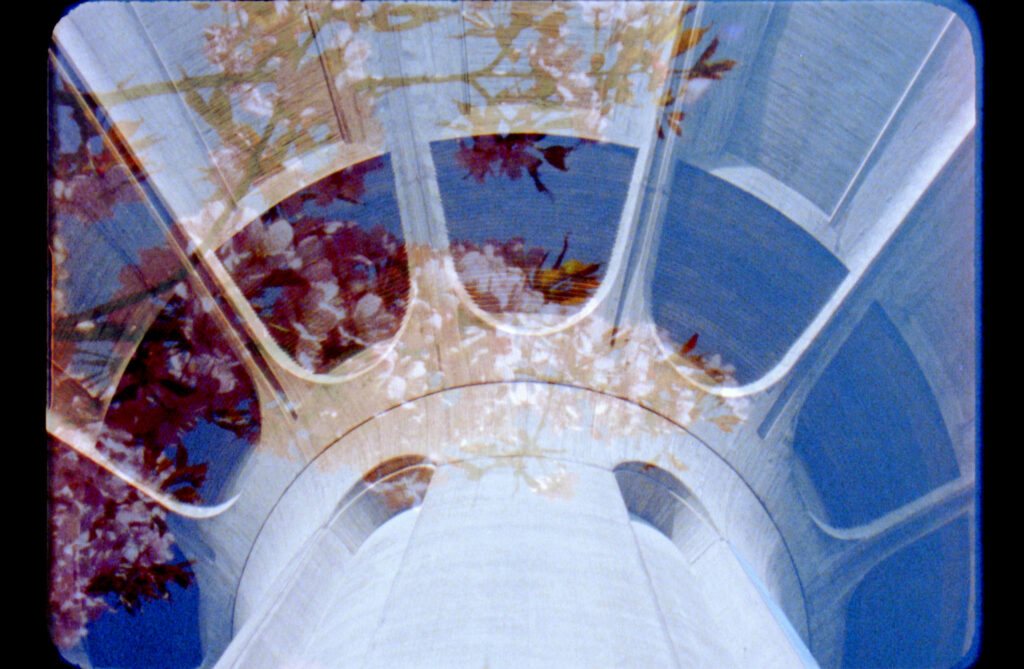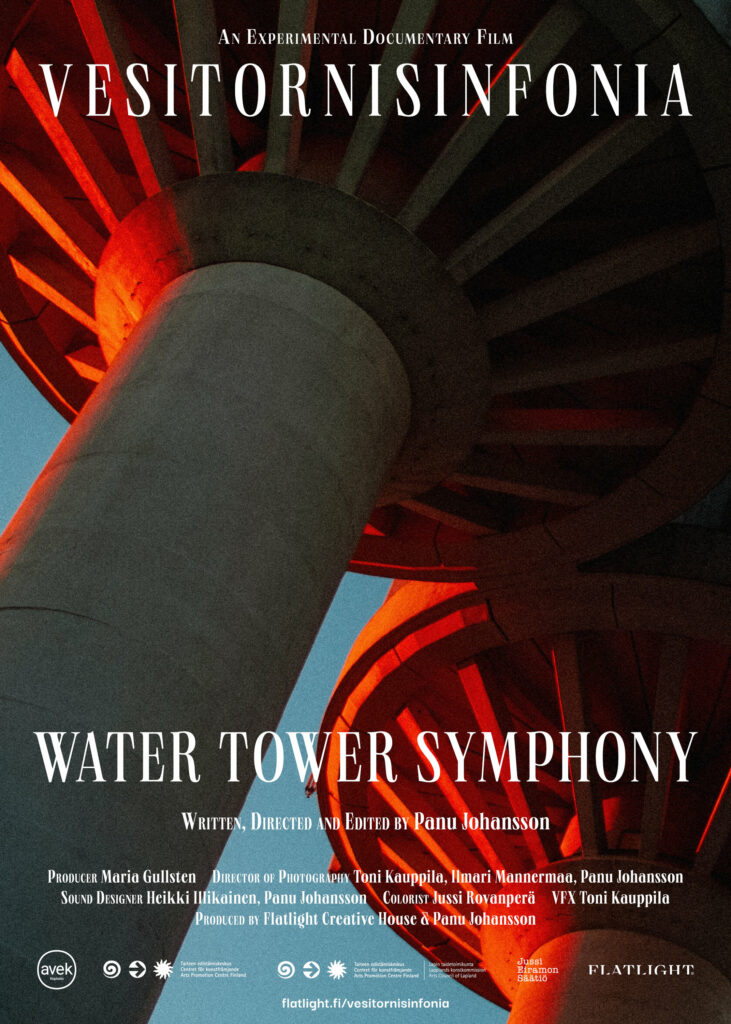 EXHIBITION DOCUMENTATION:
2023 Nordisk Panorama Film Festival. Water Tower Symphony featured on the festival trailer:
2022 Installation Version
Below you can find a short documentary video from August 2022 and from the Outoja tiloja/Weird Spaces media art event in Rovaniemi, Finland. This happening allowed me and other artists to carry out moving image works in a huge 5-channel installation format. It was such a nice opportunity that I decided to create a completely new version of the film Vesitornisinfonia/ Water Tower Symphony solely for this one event.
This 5-channel installation version is quite different from the actual film. For me this was an attempt to emphasise the monumental quality of the filmed water towers. The gigantic canvas/screening wall in the event venue (which was a parking hall) was something like 20 meters(?) wide, so it suited my plans quite well. This installation version does not contain the stories heard in the film. Instead, on the audio track you can hear an equally massive drone-flavoured alternative score made particularly for this film and this version by Lauri Uusitalo.
The video below is only a short document made of a few snippets, which I filmed in the screening space during the event. The actual installation version was 8 minutes long.
A short snippet of the 5-channel installation version can also be seen on the beginning of this event documentation video by Arttu Nieminen: